Cajon
PECJ400
Tiger Box for Kids

PECJ300
Fineline

PECJ100
Beech

PECJ200
Burl

PECJ300
Zebrano
The Cajon originally comes from Latin America and simply means "box". During the colonial period in Peru the slaves used simple wooden transport boxes as a substitute for drums. Later on the Cajon was born, with its characteristically warm and soft sound as we know it today. Quickly the instrument spread throughout Latin America, Africa and Europe. The sophisticated interior and its special construction give it its incomparable bass and snare sound which reminds us of the sound of a drum set. Guitar strings fixed on the inside of the striking side can be regulated with screws. The variable string tension creates a stronger or softer snare sound. The player sits on the Cajon while drumming with the hands on the beating side. Simply amazing!
Nowadays so many new models have come on the market that we are unable to mention them all. Please ask us directly for the details.

Cuica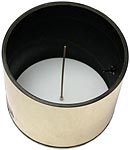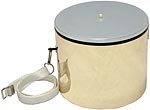 PECU100
large
A Brazilian instrument used in Samba and special effects. It can produce funny sounds like animal voices or laughter.
The construction is very simple: a metal box is covered with a natural skin, in its center a little stick is fixed. The player rubs this stick with wet fingers, or even better with a wet rag.

Guiro



PEGU100
pumpkin, decorated

PEGU200
wood, coloured

PEGU300
wood, Tic-Toc
Cuban music is rich in percussion instruments, and the Guiro is one of them. Traditionally made from a hollow pumpkin the Guiro has a natural form which gives it an exotic look. Quite often it is decorated with burned patterns or painted. The notched surface of the Guiro is scraped over with a wooden stick.
Thumb and index finger are put into two holes to hold the Guiro, usually in an upright position. The other hand passes over the notches. As is the case with many natural instruments, imitations are made in plastic, wood or metal, which produce different sounds and volumes.

Ocean Drum
PEOD100 30 cm
PEOD200 40 cm
PEOD300 55 cm
PEOD400 55 cm, Ocean Design




PEOD500
Natural skin
Bring the ocean to your own home! You even have the choice between Nordic Sea, Mediterranean and Atlantic.
You wanted more? Well, then close your eyes and move the Ocean Drum with lots of feeling, remember your last holidays at the seashore and you'll get very close to reality. Quite stormy, isn´t it?
Of course the larger drums sound the wildest but the smaller ones offer something too—they are easiest to handle and perfect for kids. Those who like colours may choose an Ocean Drum with an underwater design. As one side of the skin is transparent it is nice to watch the little balls moving like waves. Ocean breakers and waves become one. Eyes, ears and hands are equally in demand—wonderful relaxing and meditative. It is a fascinating special-effect instrument that is popular not only for music therapy but also for musicians and in work with children. By the way, you can use the Ocean Drum as a normal frame drum, too—a striker is included.

Spring Drum
PESP110 small oblique
PESP120 medium oblique
PESP130 large oblique
PESP210 small straight
PESP220 pot middle straight




PESP001 simple
Finally an instrument that can imitate thunder and lightning. The spring hangs down freely—if you shake it you hear the thunder roaring. The resonance box is its amplifier. While shaking the spring if you gently strike it against an object you even hear the lightning. Zeus would be jealous!
The models with straight boxes can also produce rain drops; just beat on the skin with your fingers. The other models may only be shaken.

Water Drum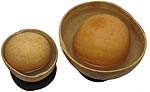 PEWT100 set
There is probably no other plant to be used so many ways as it is the pumpkin. Its useful qualities have made it indispensable in the realm of instrument making. Very often used as a shaker or resonating body, the pumpkin as we describe it here serves as an interesting drum.
The surprisingly warm and sonorous bass sounds make the Water Drum a fascinating instrument with an amazing effect. The larger bowl of a pair is filled with water, the smaller one is laid on the water upside down. Now you can drum on it whether it be with hands or soft strikers. If you have suitable bowls for the water (plastic basins for instance) you can use all four pumpkin bowls for drumming. The sounds of the Water Drum can even be tuned slightly if you change the water level inside the water bowl. Different sizes of bowls offer a variety of sound effects.
The disadvantage of the Water Drum: the pumpkin gets soaked when it stays in water too long. Therefore dry the bowls well after every use.
Set of 2 pairs, not including strikers or rings

Sound Shapes
| | |
| --- | --- |
| PESS100 | PESS200 |
Sound Shapes are groups of thin drumming disks of different shapes and colours. They make a lightweight low budget ensemble with a great variety of styles. The shackle holds the six Sound Shapes of different sizes together. The whole thing is installed on a simple cymbal stand. If played with drum sticks or felt strikers the drum set offers a sound spectrum from a Piccolo to a Bass Drum. Easy to install and to carry.

Bell Ring
PESR100
Every child knows from kindergarten that the Bell Ring is a popular shaking instrument. At school, too, it is used very often. Mostly the Bell Ring serves to give the beat; one strikes it against the palm or the leg. The frame is usually made from wood or plastic, sometimes even from metal. The quality of the metal bells corresponds to the quality of the sound. When one adds a skin to the frame the Bell Ring turns into the famous Tambourine.

Rain Stick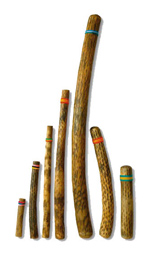 PERM100 30cm
PERM200 50cm
PERM300 75cm
PERM400 100cm
PERM500 150cm
The Rain Stick is sometimes really responsible for the rain, if you shake it long enough and also believe in it. A fascinating instrument whose origin is nature itself. Where does it come from?
The Quisca-cactus grows near the Atacama desert at the foot of the Andes in Chile. There you will find large forests of these cacti. In their living state they store water. When they have dried up they are used to make the body of the instrument that can invoke rain. The thorns are broken off and turned inside the cactus tube. The Rain Stick is filled with little stones that pass through the thorns inside and thus produce the sound of falling rain. A relaxing sound, isn't it?

Claves
| | |
| --- | --- |
| PECL100 | PECL200 |
Claves are a percussion instrument from Latin American music. Originally Claves were long ship nails used as instruments. Nowadays Claves are produced from different materials like hardwood, fibre-glass and plastic. Meanwhile they are used in many music genres.
Claves are a pair of simple sound sticks 20 or 30cm long. When struck together they produce a high penetrating tone. The holding hand should form a resonating space underneath the sound stick.

Anklung
PEAK100
The Anklung is a traditional musical instrument of Indonesia. At first it looks a bit strange but later on it reveals itself as an interesting and manifold effect-percussion. It consists ot two or three sound bodies from bamboo that can be pulled and pushed horizontally and that are tuned in precise octaves. On the upper side they hang in a frame. The lower side of the sound bodies can move inside the holes of a bamboo tube.
In order to produce a tone the Anklung has to be shaken horizontally so that the sound body strikes against the holes. Each piece of the Anklung represents a tone and they are combined in exactly tuned scales which hang together in a bamboo rack. Thus you can play each single note and create simple melodies by shaking. For work in groups we recommend that each player holds one or two Anklung pieces and shake it whenever it is his turn.
The origin of the Anklung is in Western Java, where it is widely used in primary school music lessons. While making music it is extremely important to cultivate a spirit of oneness, and the Indonesian name for it is "Gotong Royong".

Donkey Rattle
Donkey Rattle
PEDR100

Flexaton
PEFL100
This classical effect instrument originates from the original Donkey Rattle, a set of donkey's teeth, producing rattling sounds. The mechanical type consists of a shackle with a wooden knob and resonating box. It has a sophisticated interior for a rattling sound effect
Very similar is the handy Flexaton (= flex-a-tone). You can play simple rhythmic patterns with it. While flexing the sheet metal with the thumb you create glissandi. When shaken the two balls beat against the metal.

Castanets
| | |
| --- | --- |
| PEKA100 Standard | PEKA300 Profi |
Who does not know the fiery rhythms of the South? And who has not dreamt of playing Castanets? But what looks easy to do requires a lot of practice, before the hands skilfully and powerfully give these plain instruments their rhythmical fire.
The Castanets consist of two bowl-like hollowed shells of hardwood. With a loop they are fixed at the thumb and can be flicked onto to each other with the help of the other fingers. With skill, a variety of sounds can be created. Go on trying, do not give up!

Mouth Harp




PEMT402
Dan Moi, Vietnam

PEMT200
Jakutia set

PEMT300
standard


PEMT100
Bamboo, Phillipines


PEMT102
Geng-Gong, Bamboo


PEMT101
Bamboo with pink case

PEMT201
Morsing, South India

PEMT202
traditional

PEMT403
Kou Xiang, set of 3, China

PEMT404
Kou Xiang, set of 4, China
The Jew's Harp has been used for centuries in almost every culture on earth. This explains the astonishing number of about 400 types, as each country and each region created its own typical style. The variety of names speaks up for itself – there are several hundred names for this simple instrument, but there is very little known about its early history.
This small metal instrument is pressed against the teeth and then plucked. A skilled player can create a wide range of overtones. Musicians give impressive performances at annually held festivals worldwide.
The models made from bamboo are held between the lips, which is of course better for the teeth, but the sound is much softer. The Vietnamese Dan Moi works the same way but as it is made from metal the sound is full and strong. Here we present some of the most popular types.

Shakers
PEEI100 wooden egg
PEEI101 wooden ball
PEEI102 plastic egg

PEBA200
shaker with stick

PEMA300
Maracas

PEMA100
Maracas

PEMA200
Maracas Mini

PECA100
Cabassa, metal

PEHW100
wooden cube

PECX100
Caxixi

PETS100
Talking Shaker

PEBR100 plastic

PESW100 wooden, large
PESW101 wooden, medium
PESW102 wooden, small

PESH200 metal tube
PESH300 wooden, notched
PESH700 wooden, plain

PESR100
Shaman Rattle, simple quality, carved


PESR200
Shaman Rattle, RAS-AD Eagle Motif

PESR300
Shaman Rattle, RAS-SK Eagle Motif

PESR400
PESR500
Shaman Rattles
A shaker or rattle is a simple but flexible and quite powerful too,l that can be played with or without a drum. During healing ceremonies it helps to release blocked energy. The shaker moves, transforms and gets things going. Its sound can be varied easily, providing different results. According to its cultural surrounding the shaker offers a different form and use. It is an inseparable part of man and his rites. Some are decorated with feathers and pearls as we see with the Native Americans, others are skillfully carved from natural materials. The shaker always is an expression of man's creativity.

Televi Shaker
PETR100
Please don´t ask where the name comes from – it has nothing to do with television. Probably it is some African word.
Now, there are two small pumpkin balls connected with a cord. One ball you hold between middle and ring finger; the other ball hangs down over the hand´s back. Then you shake the ball skillfully towards your palm so that it strikes the other ball: Clak! In that way you move it to and fro. As the balls are filled with seeds you can also shake them; the best time is between the claks. There are many interesting rhythms. If you get used to it use both hands. If you cannot figure it out yourself ask an African musician to show you. It is an amazing little thing!

Ruttli-Shaker

PERS100 small
PERS200 large
PERS300 metal
The variety of rattle and shake instruments nowadays is huge. The imagination of instrument makers seems to be flowing freely—they create ever-new forms from ever-new materials, and thus ever-new sounds.
The Ruttli-Shaker has a simple cylindrical shape; its speciality is found in the size, the weight and the filling.
There are three models with three different sound qualities. The little shaker has a coarse filling which makes a deep timbre. The medium shaker with a brass ring produces a high metallic timbre. The third and biggest one has a strong sound. All three types have three different grades: light, medium and deep. All shakers are very handy and fit in any pocket.

Humming Tube
PESM100 DECH-L

It is also known as a Devil Chaser, but the sound is not as big as the name. When you strike the tube onto the hand you create some gentle humming sounds. But who knows, ghosts may have sensitive ears?

Frog Family
PEFR100 Baby
PEFR110 Little Brother
PEFR120 Big Brother
PEFR130 Mum
PEFR140 Dad
PEFR150 Grandfather
Frog concerts, just like in the wild! Best to invite the whole family: the mighty grandfather with his impressive 50cm in length and 30cm in height. Followed by mum and dad and a bunch of kids. Even baby frog has a convincingly natural voice.
How to make them croak? Pass the thicker end of the striker gently over the back, preferably upwards from below.
A special effect: use the frog like a clave and strike it rhythmically on the head. Don´t worry – he won´t complain. Mostly the larger models have a sonorous sound.
You'll love these frogs, carefully handcrafted in India. Natural look with fine wooden structure.
Striker included

Qi-Gong Balls
PEQG100
A melodious fitness device for all hands that need relaxation! In China where the ancient art of healing has been cultivated for many ages, Qi-Gong Balls are a widely used means of relaxing the nerves and to develop the flexibility of the fingers.
The trick is to spin two balls in one hand without letting them touch each other. In that way the litheness of hand and lower arm is improved immensely. After 10-15 minutes you change the spinning direction, then repeat the same procedure with the other hand. At the same time the acupuncture spots of the hand are stimulated, which positively influences the whole nervous system.
Each ball creates a sound while moving; as a pair, a light and a deep tone are combined which expresses Yin and Yang. Try them! After a while you too will gain mastery over these melodious balls.

Temple Block
PETB100
single, wood

PETB200
set of 5

PETB300
wooden percussion set
In Asia you find percussion instruments in the form of a skillfully carved fish. They are called Temple Blocks as they are used in temples. The Temple Blocks served and still serve as a beat for chants in Buddhist ceremonies. As they have a percussive sound and different sizes offer different tones they are quite flexible. Often they are played in sets on a stand but can be held easily by the fish's tail and played as single instrument, preferably with a wooden striker. The wooden drum set is a combination of three different Temple Blocks with three horizontal notched claves. All that is fixed on a hand carved wooden stand. With wooden strikers different tones can be produced; in combination with other wooden percussion instruments, one can create an interesting mixture of melody and rhythm.

Temple Bell
PETG100
The Temple Bell from Nepal is a traditional ritual instrument of Tibetan Buddhism. In fact it consists of two parts: the bell, also named Ghanta, and the Vajra or Dorjee. As a pair they embody the feminine and masculine principles and are always used together. The Tibetan Lama uses Ghanta and Dorjee as an initiation rather than a sound instrument, in very special ceremonies. Whoever comes into contact with Tibetan Buddhism will always find this instrument, especially in the art world of Mahayana and Tantrayana. The outer design of the bell and the Dorjee is closely related to ritual symbolism and expresses many inner laws and secrets.
But also without knowing the background the bell is a beautiful instrument with a pure sound. With a striker one can rub the rim as one does with singing bowls.

Tibetan Temple Cymbals
PETZ100
Tingsha Relief

PETZ200
Tingsha Plain
The name already reveals that Temple Cymbals are sound objects used for rituals in the temples and monasteries of Asia. Like many other musical instruments of the Far East these handmade Cymbals from Nepal fascinate the listener with a long lasting sound, rich in overtones. They are made from a special alloy and are quite heavy, which gives them sonority. The Cymbals are connected with a leather cord. In order to play, one takes the cord with both hands a little above the Cymbals and allows the rims to strike together. Another way of playing is to move them vertically.
One model is plain, the other one is decorated with Buddhist symbols, but as each instrument has its individual sound, the ornaments rather have an aesthetic value for us Westerners. The Cymbals can be used in many ways: like singing bowls as a signal for meditations or moments of silence; but they also lend themselves beautifully to vocal or instrumental music.

Jing Cymbal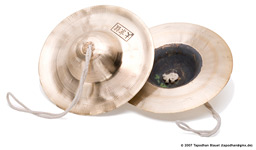 PEJC100
The characteristic of Asian Cymbals is that they are handmade. This gives each instrument its individual sound with more overtones than the classical Western types. Jing Cymbals are 12cm in size, and are to be struck with both hands. The hump in the middle of the Cymbal is responsible for the overtones and a typical Wah-Wah-effect. Of course, one can use strikers too, to create other sounds.

Shaker Ring
PESH110
The family of the percussion instruments is immense, as almost every material produces a sound. Here we present a plain but interesting sound object made from brass that originates from Vietnam. The Shaker Ring is hollow and has an open inside groove. Inside the ring there are small metal balls that can be shaken. The speciality of this instrument is that it is put onto the thumb and the other fingers enclose it while shaking. By alternate opening and closing one creates interesting sound effects.

Apitua, Grello & Agogo
PEAP100
Apitua

PEGR100
Grello

PEAG100
African Bell with holder

PEAO100
Agogo

PEDG100
Double Bell
In African music one will find some instruments that are not so attractive at first sight. In most cases they play a special role in the ensemble, for example as the rhythmical backbone for the other musicians. Therefore it is quite important for them to be loud enough to drown out other instruments but at the same time to be not too loud that they dominate all. They give the beat and offer some interesting effects as well.
Apitua and Grello belong to that special category. The Apitua resembles a little boat that is bent at the ends. It is made from black iron and played with a metal stick. The holding hand encloses the body between the beats and so creates special effects. The Grello is a set of two metal pieces put onto the fingers and struck together. Both instruments sound metallically dull but are effective in the ensemble.
The African double-bell Gonkogui, too, belongs the metrically precious percussion instruments. Most people call it Agogo, which rather describes the Brasilian type that is different from the former in form and use. However, it also originates in Africa. As the name says the Gonkogui consists of two bells welded together with a holding grip. They differ in size and height of tone. In the Djembe ensemble the double-bell is put on top of the bass drum; in that way the player can play on both instruments simultaneously. Usually it is struck with a wooden stick but in some cases also with a metal stick. The beat of the bell is called the guideline as it insures that the music gets going and the musicians find their orientation. The bells of the Brasilian Agogo can be pressed together as they are connected with a spring-like metal shackle, so it offers an additional click besides the normal beat.

Wind Chimes
PEWS100

PEWS101

PEWS102

PEWS103

PEWSC100
Chimes

PEWS200

PEWS201

PEWS202

PEWS203

PEWS204

PEWS205
The wind likes to play whether be it in our hair, with autumn leaves or in the twigs of the trees. If you hang some melodious chimes he likes to play with them too, and elicits from them wonderful subtle sounds surprising our ears.
Wind Chimes – a play of nature with manmade instruments. Whether high ringing gentle tones or low sonorous ones, we always look for the source of this melodious magic with surprise and joy. They have found a place in gardens, on balconies or terraces, in rooms and corridors. They welcome us when we open a door or deliver a soft message of wind, warmth and light from outside.
The choice of models is manifold as sound artists incessantly try to create new and even more beautiful wind chimes. There are some made only from metal which play brilliant, high and wide in distantly audible tones. Others consist of long and thick tubes with wooden balls striking them. They charm us with warm sounds rich in overtones. Again there are chimes made completely from wood or bamboo – they rattle cheerfully. The choice is vast; just visit us and discover yourself which sound charms your ears best.

Zaphir/Koshi Windchimes
PEWS401 Zaphir: Twilight
PEWS402 Zaphir: Sunray
PEWS403 Zaphir: Crystallide


PEWS404 Koshi: Aqua / Water
PEWS405 Koshi: Terra / Earth
PEWS406 Koshi: Ignis / Fire
PEWS407 Koshi: Aria / Air
After half of the world has held its breath because the production of the popular Shanti chimes stopped, the new types of Zaphir and Koshi are now heralding a new era. Zaphir has been faithful to the Shanti archetype and shines in the familiar bright colours, whereas Koshi has chosen a new direction: the clear simplicity of nature. These new models are made from natural bamboo, have a larger resonating chamber and come in 4 tunings corresponding to the 4 elements.
Anyone choosing between the chimes is spoiled for choice – each one has its own unique beauty. To compare them is a challenge as colourful design and sound creations please the eye and ear alike. Just come round and try yourself!